Contact Details
Cell: +64 21 158 2816

heather@kiwitravelwriter.com
RSS Syndication
Syndicate with RSS
Bookmark me!
Follow me on Twitter
Fan me on facebook

Also on Google+, LinkedIn, Pinterest, & Tumblr etc.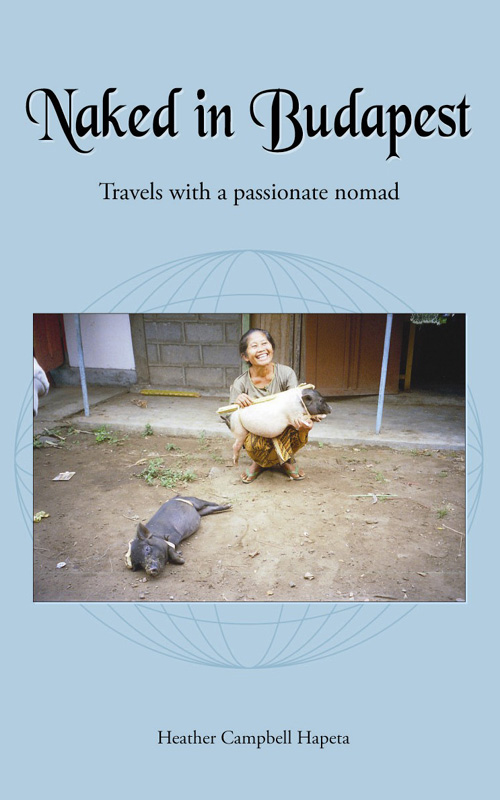 . . .
Buy as an e-book here $US 4.99
Real travel, real adventures, real stories, real photos

Join me on my next one-day travel writing workshop
in Wellington, New Zealand (March 2014)
www.cecwellington.ac.nz
(OR invite me to present this workshop in your area or at your book or writing festival)
Editors -- up-to-date stories about post-quake Christchurch available
Email me for a copy of my writing CV
Fresh stories available from Borneo (June /August 2013) including 3 days at the Rainforest World Music Festival
Sign-up to my Wordpress Blog to follow my travels (no spam - ever!)

paperback $US 15.00 (NZ $20) Includes postage
Contact me
directly to buy the paper version
Read authentic travel tales that make people think "I want to go there" or conversely, "that's the last place I'd want to be"
My grandmother called me the "how, why and when girl" & curiosity is the first thing I pack, an essential, lightweight travel item.

Naked in Budapest: travels with a passionate nomad


my travel memoir now also available as an E-book: only $us4.99 buy here
-----------------------------------------------------------------------------------------------------------------------------------------------------------------------------------------------------------------------------------
Corporate clients for my travel writing have included
Member of: TRAVCOM (NZ Travel Communicators Assn) NZSA (NZ Society of Authors) and the International Travel Writers Alliance

The rental car company I use in New Zealand (Auckland, Christchurch & Picton) is Rental Cars NZ


Check out my blogs
http://kiwitravelwriter.wordpress.com
http://heatherhapeta.blogspot.com
myinnercitygarden.blogspot.com/

Follow me on Twitter @kiwitravwriter and most social media

I'm on the '101 Most Awesome Adventure & Travel Twitterers You Should Be Following" list."
It's a "list of awesome people who embody passion, adventure, and share their best traveling tips via Twitter."

See some Christchurch earthquake photos I took in my inner city neighborhood (September 2010) in the hours after the first quake

Upcoming print articles include

Lifestyler Magazine.Canada "Mediating in Thailand - can I remain silent for 10 days?"

American Birding Association Magazine "A travel writer among birders - Gujarat, India"

Wild Tomato magazine "A Borneo Adventure"

Lattitude magazine "Sarawak Kek Lapis in foodie heaven"

Recent articles published in Travel New Zealand magazine: Northland, New Zealand and Maori Tourism;
Lattitude magazine, European River Cruising.

Just a few other websites I feature on (just search for kiwitravelwriter or hapeta)
Photos and stories published in numerous print travel publications including, but not only ...
Singapore Airline Priority Magazine
South China Morning Post
New Zealand Listener
Morning Calm (Korean Airlines)
Kia Ora (Air NZ)
Dominion Post(NZ)
Homestyle
Open Skies (Emirates)
NZ Women's Weekly
Sydney Morning Herald
The Press (NZ)
Australia New Zealand (UK)
Wild Tomato (NZ)
Lattitude (NZ)
For anything related to my work contact me kiwitravelwriter AT gmail.com or on the form on my contact page.
For a motivating speaker for your group, organisation, festival
To commission freelance work - this pen is for hire